Watch Tania's Showreel
Tania speaks and performs around the world inspiring diverse audiences of 10 to 10,000 people ranging from corporate executive teams, boards and entire organisations to universities, hospitals, schools, business and entrepreneurship forums and at major national and international conferences and public events. She consults to a number of national and multinational organisations at C-Suite level providing keynotes, performances, leadership, team building and innovation workshops, connections and strategic advice.
Tania helps organisations build capabilities in creative thinking and leadership, develop a culture of innovation and entrepreneurship, understand and manage disruption, foster diversity, inclusion and community and unleash potential of individuals and teams. Click here for more information on Tania's keynote speeches & workshops (PDF, 201Kb). Click here for more information on other fabulous workshops, team building, leadership, brainstorming and training programs.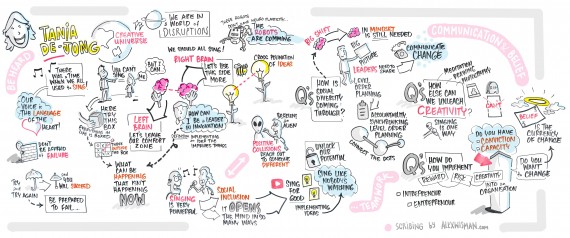 Download Tania's one page speaker bio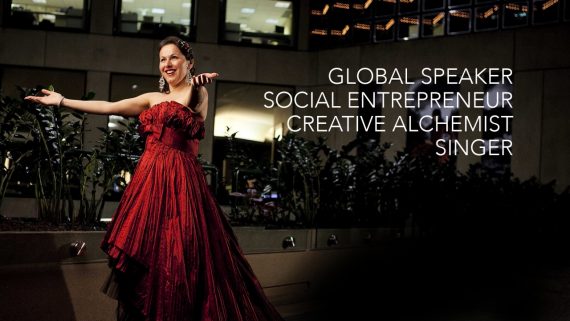 Recent Speeches, Workshops & Presentations
ISPIM International Innovation Symposium in Vienna, Keynote: Voices of Innovation – The power of positive Human collisions
Thinkers50 European Business Forum, Odense, Denmark (September 2018) – Positive Collisions
Happiness and its Causes, Sydney with Dalai Lama – performance, workshop and keynote on singing, wellbeing, creativity and mindfulness
Creative Innovation 2010-2017 Asia Pacific, Founder, Executive Producer & Keynote speaker
Victorian Government, Panel Discussion Artificial intelligence, society and the economy
Department of Defence, Science & Technology, Keynote: Culture of Innovation – The power of positive Human collisions
Woodside Innovation Week, Keynote: Harnessing creativity & innovation
Insead Business School  and Transurban Top Team, Closing keynote: Voices of Innovation – The power of positive Human collisions + team building creative workshop and performance
St Peters College, Adelaide, Rex Lippman Oration: Voices of Innovation – The power of positive Human collisions
Wade Institute, University of Melbourne, Keynote: Entrepreneurship: Harnessing creativity & innovation
Tetra Pak, Keynote: Voices of Innovation – The power of positive Human collisions
Tech Diversity Gala Dinner, Singing performance for the Gala Dinner & Award ceremony
Community Broadcasting Association of Australia, Opening keynote: Finding your voice – The power of positive Human collisions
DeakinPrime: Corporate Business Training
National Speakers Association of Australia
The International Society for Professional Innovation Management – Global Conference
TEDxMelbourne
2013 National Local Government HR Conference
Howard Florey Institute
International Confederation of Principals, Keynote Speaker, Singapore
Invergowrie Foundation W E McPherson Oration
VECCI and City of Melbourne, Keynote Speaker & Chair of Panel: "Creative City in uncertain times"
Creative Innovation Global – Ci2010-2017
Committee for Melbourne
Australian Secondary Principals Association
Serious Women's Business Conference
National Australia Bank – Key Clients Constellation Series
National Conference "Creativity and Resilience" (Mental Health Foundation)
Mind and its Potential Conference
Melbourne Business School
Australian Centre for Educational Leadership National Conference
Universities incl. Deakin, Monash, Swinburne, La Trobe, Melbourne, CQU
National Catholic Schools Conference
Ernst & Young
Golden Door Health Retreats
Melbourne Fire Brigade
Not-For-Profit Forum
Rotary International
St Catherine's School Alumni Lunch
VECCI Women in the City Network
Other corporate clients include McKinsey & Company, Thiess Services, AGL, ANZ, BHP, PriceWaterhouse Coopers, Spotlight, David Jones, Perpetual, Veolia, AON, La Trobe University, Coates